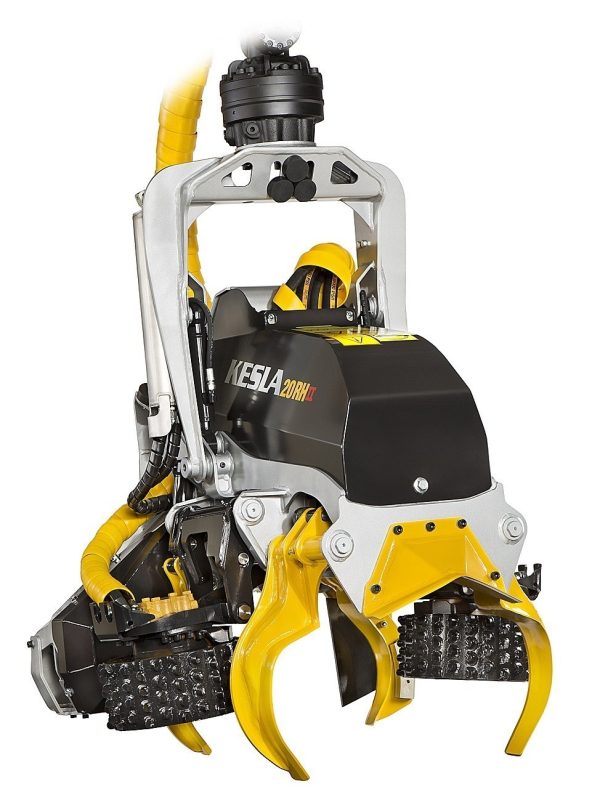 As a leading manufacturer of shear harvester, Kesla has taken shear harvester technology to a whole new level.
The new components known by roll harvesters, for example, is the standard measuring device KESLA proLOG. Pulse technology allows even a small basic machine with hydraulics to achieve a great delimbing performance. Therefore, KESLA shear harvester are particularly well suited for excavator platforms. They work best when felling heavy trees that require raw power and, on the other hand, the careful handling of valuable wood.
KESLA HARVESTER & #8211; AGGREGATE
The power of the shear harvester is also sufficient when debiting strong and hard wood without resetting. Therefore, even under really difficult circumstances, the Schubharvester is unbeatable even at the push speed. Its optimized hydraulics and proportional feed of the shear harvester make its use soft and pleasant. The patented ProSTROKE impulse function also facilitates the delimbing of "crooked" stems. Due to the good grab feature and the large range of motion of the slope, KESLA shear harvester is ideal for both vertical logging as well as for impact processing.
The KESLA push harvester can be adapted to all special requirements of customers with a wide range of accessories.
Push harvester, push processor, push unit, Kesla push harvester, Kesla push unit Kesla push processor, 25SH push harvester, 25SH drawbar, Kesla 20SH push harvester, Kesla 25SH push harvester
Shear harvester, shovel harvester, shovel harvester 20SH, shovel harvester 25SH, shear processor, shovel, Kesla shovel processor, Kesla harvester, harvester, Kesla shovel harvester, Kesla shovel harvester
The shear harvester KESLA 20SH II is especially suitable for the efficient handling of trees with difficult branches. It does not matter if he is standing or in a heap. With this gripper, even valuable wood can be easily processed without damaging the trunk surface. The proSTROKE partial thrust coefficient. The optimum stem diameter for the aggregate is 25cm. The 20SH II shear harvester is suitable for basic machines with an operating weight of 7-13 tons.