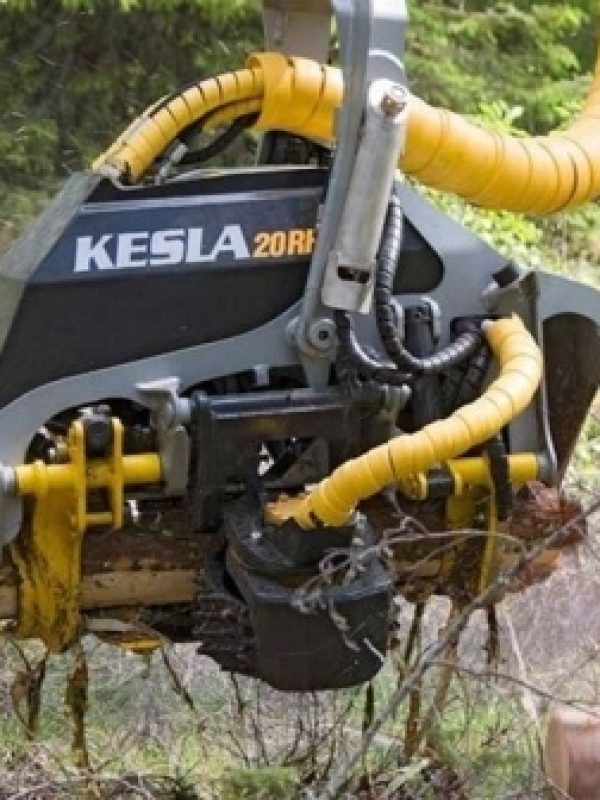 The Kesla roller harvester models Kesla 20RH and Kesla 20RHS are fast, agile roller harvester heads for the thinning and finishing of small tree populations where the trees have an average diameter of less than 30 cm on average. The gripper opens a maximum of 45 cm.
These light but sturdily built roller harvester heads have an extremely high feed and cutting capacity for their size class.
Four delimbing knives do a good job, making the backs of the trunks easier. On accessories are u.a. ProCon and HydCon, color marking, automatic chain adjustment and floor treatment available. As a carrier vehicle for the Kesla models 20RH and Kesla 20RHS we recommend felling machines with a wheel base and an operating weight of 8-13 tons.
Width with open gripper:

1,150 mm

1,150 mm

Width with closed gripper:

900 mm

900 mm

Length:

1,275 mm

1,275 mm

Height (without rotator):

1,220 mm

1,220 mm

Weight (without rotator):

570 kg

570 kg

Saw

 

 

Ablängdruchmesser (Max.):

450 (520) mm

450 (520) mm

Sword length:

18 (20) "

18 (20) "

displacement:

19 cc

10 cc

feed:

2 synchronous rolls

2 synchronous rolls

Opening of the rollers (max.):

450 mm

450 mm

Feed force:

19 kN

15.1 kN

Feed rate (max.):

5 m / s

5m / s

limbing

 

 

delimbing:

4 moving,

1 fixed

4 moving,

1 fixed

Delimbing:

 

 

(Tip of the knife together)

330 mm

330 mm

Opening of the front knives (max.):

480 mm

480 mm

Opening behind knives (max.):

520 mm

520 mm

hydraulic

 

 

Pressure:

210-240bar

210-240bar

Required funding:

170-200 l / min

125-150 l / min

Kranempfehlung:

Kesla H561 or H571 with parallel guidance

Kesla H561 or H571 with parallel guidance