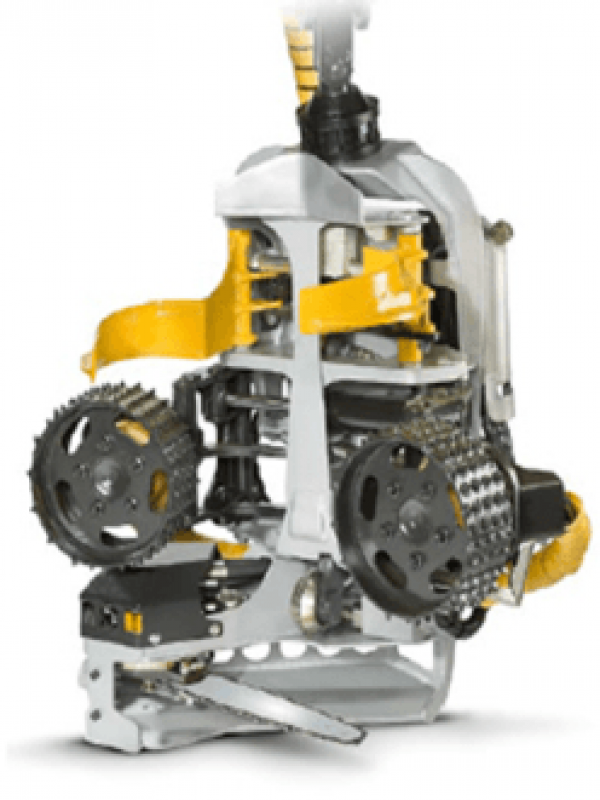 The Kesla Roller Harvester 18RH and the Kesla Traction Harvester 18RHS are powerful harvester heads for thinning.
The feed and cut capacity is unusually high in relation to the size. The Kesla 18RH and Kesla 18RHS are most suitable for applications where the log diameter is less than 25 cm on average. The gripper opens a maximum of 40cm.
Thanks to its compact design, the Kesla harvester head can easily handle even curved trunks.
On accessories are u. a. Hydcon measuring rolls, marking, automatic chain tensioning and stick treatment available.
As a carrier vehicle for the Kesla models 18RH and 18RHS we recommend felling machines with a wheel base and an operating weight of 7-10 tonnes.
Width with open gripper:

1,130 mm

1,130 mm

Width with closed gripper:

870 mm

870 mm

Length:

1,140 mm

1,140 mm

Height (without rotator):

1,100 mm

1,100 mm

Weight (without rotator):

450 kg

450 kg

Saw

 

 

Ablängdruchmesser (max.):

450 mm

450 mm

Sword length:

18 "

18 "

displacement:

19 cc

10 cc

feed:

2 synchronous rolls

2 synchronous rolls

Opening of the rollers (max.):

400 mm

400 mm

Feed force:

19 kN

15.1 kN

Feed rate (max.):

5 m / s

5 m / s

limbing

 

 

delimbing:

2 moving,

1 fixed

2 moving,

1 fixed

Delimbing:

 

 

(Tip of the knife together)

330 mm

330 mm

Opening of the front knives (max.):

480 mm

480 mm

Opening behind knives (max.):

 
 

hydraulic

 

 

Pressure:

210-240bar

210-240bar

Required funding:

170-200 l / min

125-150 l / min

Kranempfehlung:

Kesla 671H parallel cranes

Kesla 671H parallel crane