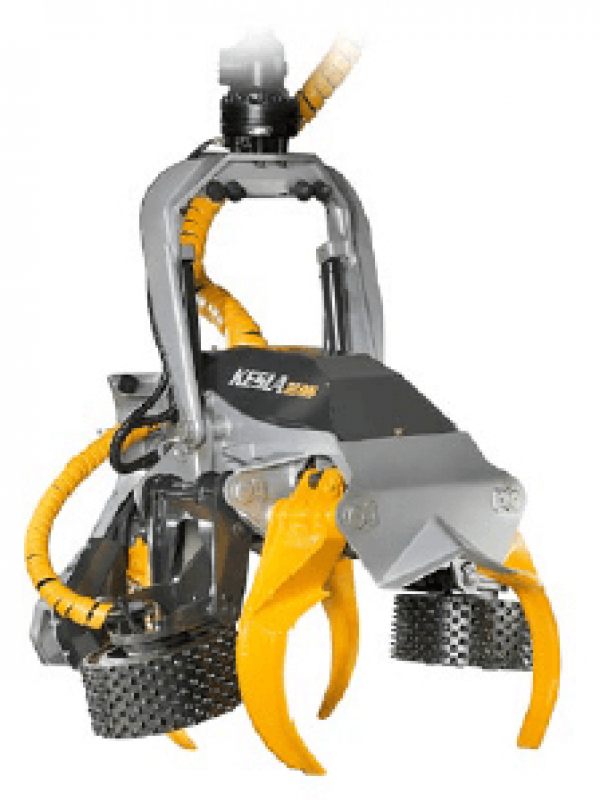 Kesla 28 RH is one of the most popular and very durable, for heavy excavators developed the 30RH harvester, developed "lighter" version.
The 28RH and 30RH models are suitable for clear cuts in which the average diameter of the wood is about 50cm. The aggregates are also very suitable both for pressing for the material lying on the ground and in the heap as well as for impacting eucalyptus.
The highly efficient 30RH and 30RHS, fully synchronized 3-wheel drive, ensures that enough pulling power is available for strong and hard branches in the hardwood sector. The 28RH and 28RHS are equipped with a 2-roller drive that ensures a new hydraulic skid lock. This anti-slip spear provides enough power and thrust speed with incredible good performance. The following equipment is available for selection:
& #8211; Pro Con
& #8211; HydCON
& #8211; EucaPro
Equipment, Color Marking, Root Treatment and Automatic Saw Chain Tensioner. The 28RH and 28RHS units are very well suited for large base machines with an operating weight of 17-22t. The units 30RH and 30RHS are specially designed for 18-25t excavator machines.
TECHNICAL SPECIFICATIONS

28RH

28RHS

Width with open gripper:

1,725 mm

1,725 mm

Width with closed gripper:

1,130 mm

1,130 mm

Length:

1,635 mm

1,635 mm

Height (without rotator):

1,620 mm

1,620 mm

Weight (without rotator):

1280 kg

1280 kg

Saw

 

 

Ablängdruchmesser (Max.):

670 (750) mm

670 (750) mm

Sword length:

25 (28) "

25 (28) "

displacement:

19 cc

19 cc

feed:

2 synchronous rolls

2 synchronous rolls

Opening of the rollers (max.):

700 mm

700 mm

Feed force:

30 kN

25 kN

Feed rate (max.):

4 m / s (300 l / min)

4 m / s (250 l / min)

limbing

 

 

delimbing:

4 moving,

1 fixed

4 moving,

1 fixed

Delimbing:

 

 

(Tip of the knife together)

480 mm

480 mm

Opening of the front knives (max.):

720 mm

720 mm

Opening behind knives (max.):

760 mm

760 mm

hydraulic

 

 

Pressure:

240-270bar

240-270bar

Required funding:

250-300 l / min

220-270 l / min